1996 was a really tough year for me because in short order I lost three very close friends.
Strike One.
My dad died in August after battling cancer for 2 years.
Two nights before he died I attended a King Crimson show in Philadelphia with my friend Steve.
We had a great time that night. I believe it was the last night of the KC tour and through Steve's friendship with Bill Bruford, we had received back stage passes and we gave BB a ride to his hotel. Perhaps the relief I felt at getting away from my father's illness if only for one night may have lessened the heaviness of losing him two days later.
Here I am with my father in the early 1990s.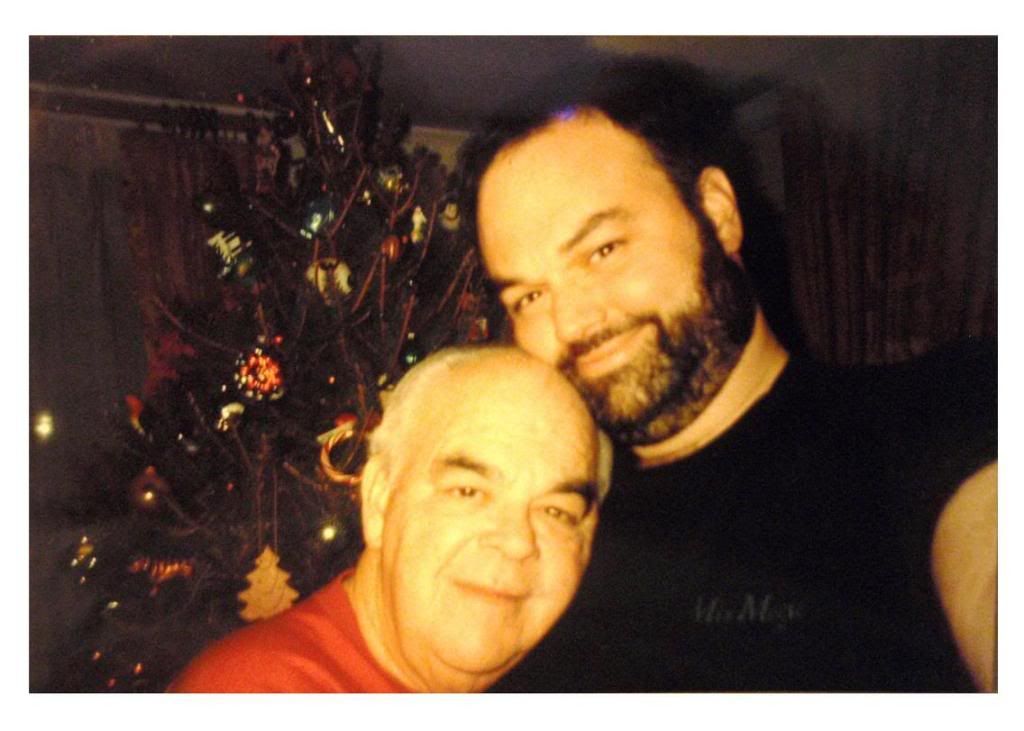 Strike Two.
Donald King, the father of my childhood friends David and Julie and Doug King, who along with his wife Ellen were classmates of my parents at the Peabody Institute of Music, passed away a few weeks later in November of a heart attack.
Donald King in our dining room Winter 1986-1987
Donald King and my Dad in David and Patti King's Reservoir Hill backyard late 1986 or thereabouts.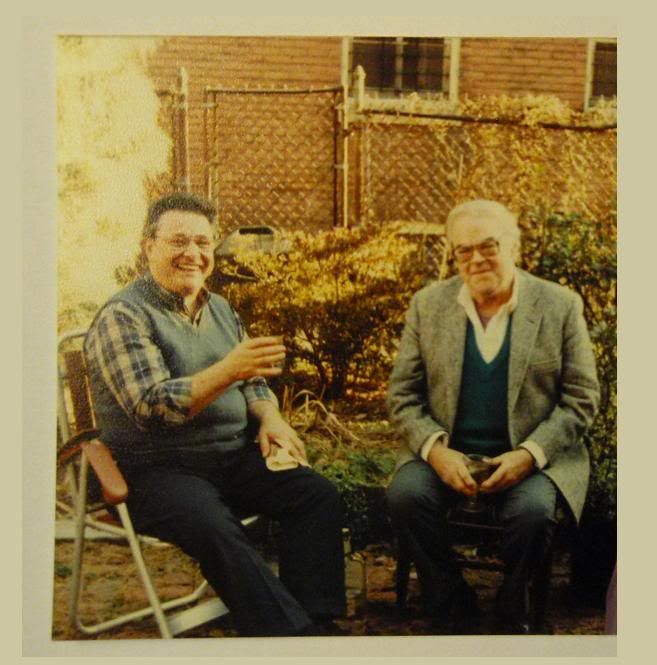 He always reminded me of Ross Martin (Artie in The Wild Wild West) and he was (like my father) a great cook and a talented organist and a funny guy.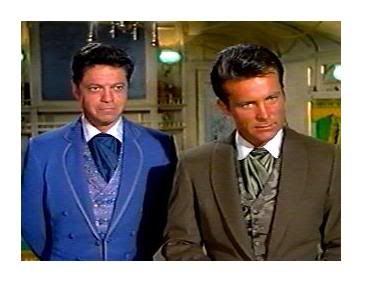 Ross Martin as Artemus Gordon and Robert Conrad as Jim West in The Wild Wild West.
Strike three.
Then in December for the first time I experienced the loss of one of my earliest childhood friends. Thomas Kent Winchester died of cancer at the age of probably 43 or 44.
He was born on December 11th in the early 1950's. When he passed away, the date was 11 days after his birthday on December 22nd.
He was one of the people that I would always consider to be like a brother to me. Being that I have always been an eternally young and lonely, only child, I have always welcomed the bonds that I have had with friends like Tom.
We grew up together playing baseball and football and trading baseball cards. I had never met anyone like him before. He was like a mogul when it came to collecting things. He used to buy Topps cards by the box. He bought candy bars by the box.

For years he got so excited about Christmas that he would find out where his parents had hidden his presents.
On his yearly pre-Christmas holiday undercover-special ops task, he would penetrate the perimeter of his parents' bedroom. He would traverse the closet door defense and then silently unwrap the gift boxes, and then he would put them back in the wrapping paper and return them to the closet vault. He did this because HE HAD TO KNOW what he was going to get, and he always liked life when it was on his terms.
His lifelong passion for collecting things like his Beatles collection and his sports trading cards came in handy. As he grew older, he began to shed his collecting bug. In his later years these pop culture possessions were akin to stocks and bonds as they allowed him to cash in these items as needed to survive.
Like many kids in our age range, we were Beatles fanatics and we listened to their music and we really knew the catalog. The songs were religious hymns in our church of pop culture. We made Christmas ornaments together, and went shopping for albums and 45s in downtown Baltimore, and we ate a lot of pizza, and lots of other fun stuff and I'm sorry he didn't live a longer life. He died too young, and unfortunately he grew up in a family atmosphere where there was a strong preference for smoking. Many of the photos that I have of Tom show him with a cigarette in one hand.
As fate would have it, the Beatles Mono Box arrived today on December 8th 2010, and it is an early Christmas present for me waiting to be played. It was Tommy Winchester who called me from Idaho that Monday night on December 8, 1980. He wanted to let me know that Lennon had been murdered. To hear that brutal news from him made it "official" given all the positive quality time that we had spent together, and much of it accompanied by the music of our heroes the Beatles. We had experienced a loss in our family, and we needed to share the loss of Lennon.
Tom Winchester was a true friend and such a character like most of my friends from Baltimore, and I thought I should post a photo of "Kent" today. In his later years he preferred to be called by his middle name with the family ties to the Eastern Shore, but to me he will always be Tom.
Tom and Randy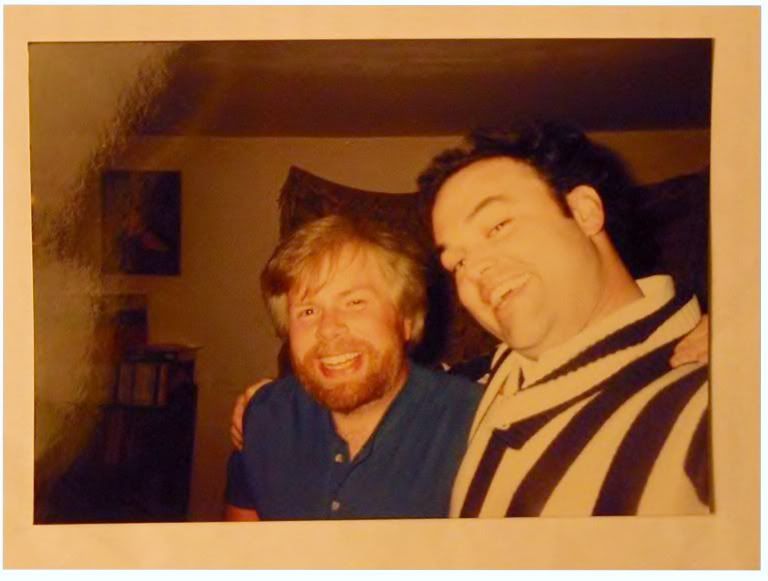 For a short time when I first became a huge fan of The Who, I thought that TKW enjoyed the rock opera Tommy only because it had the same name that he had. I was wrong.
All I can say right now to TKW is "Merry Christmas" and to ask of him, "Tommy, can you hear me?"
http://www.youtube.com/watch?v=TG1faQDJJvg
The link above is from The Who live at Tanglewood in 1970 performing "Christmas".
Here are two frame grabs of everybody's favorite rock drummer Keith Moon playing in the above You Tube link.
Keith is so excited about playing "Christmas" that he is jumping out of his seat three different times to maximize the impact of his sticks upon the second cymbal crash before the arrival of each part of the lyrics as the song goes forward! The Who during their peak years were undeniably POWERFUL. They were funny and ferocious, incredibly symphonic, always emotional, bombastic and in-your-face, sensitive and confessional, essential, meaningful, and heavy and timely, and that's why I loved them so.
Like all the things that I love deeply and care about, I still do.