Today is June 16, 2010.
PSYCHO
is now 50 years old. It was directed by Alfred Hitchcock when he was 60. This year, Brian De Palma will be 70 years of age in September of 2010. He is about to direct
The Boston Stranglers
- a film based on Susan Kelly's book which opines that the crimes committed by Albert De Salvo (who was convicted of being the Boston Strangler) were not the work of one man but of multiple stranglers operating at the same time.
New York Magazine featured a profile piece on Brian De Palma in the August 4, 1980 issue written by David Rosenthal. Fresh from his recent picture
Dressed to Kill
, we find BDP on the cusp of directing "Personal Effects", a thriller that became known as
BLOW OUT
. I am one of the De Palma fans who believe that this film is the greatest achievement of his career.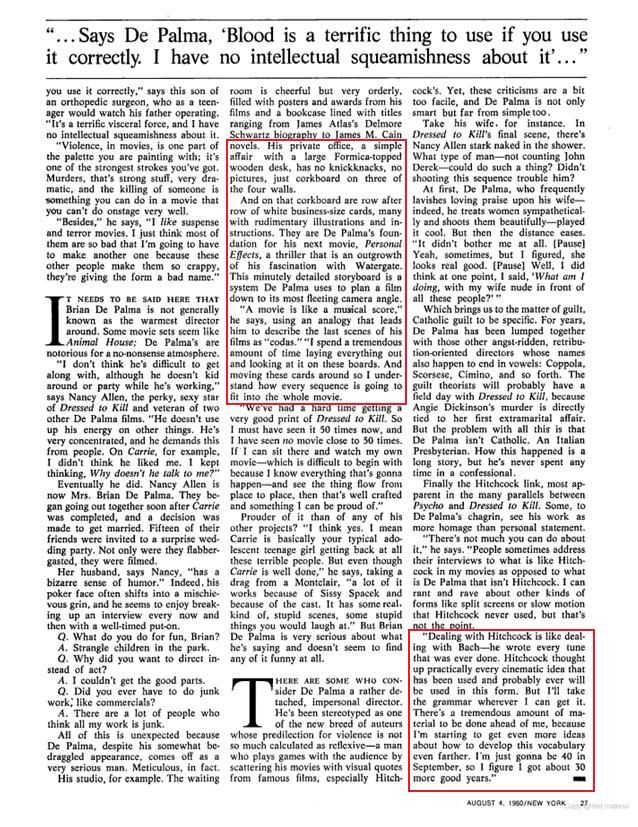 In the final paragraphs of the article David Rosenthal provides De Palma quotes which are important to consider in evaluating his own work as well as that of Alfred Hitchcock: "Dealing with Hitchcock is like dealing with Bach – he wrote every tune that was ever done. Hitchcock thought up practically every cinematic idea that has been used and probably ever will be used in this form. But I'll take the grammar wherever I can get it. . . . I'm starting to get even more ideas about how to develop this vocabulary even farther. I'm just gonna be 40 in September, so I figure I got about 30 more good years."
Well 30 years have now past by. His last three films
Femme Fatale
(2002),
Black Dahlia
(2006) and
Redacted
(2007) were not financially successful at the box office. Once again he is in the position of needing a "hit". I am really looking forward to seeing this new project, but like all good things, we must wait for an outcome…..
(New York Magazine holds the copyright to this August 1980 article written by David Rosenthal.)